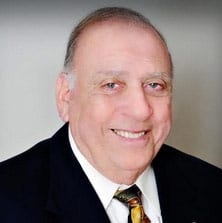 Joseph P. D'Alessandro is a native Floridian, born and raised in Fort Myers, Florida. He graduated from the University of Florida with a Bachelor's degree in Journalism in 1961, thereafter receiving his Juris Doctor degree from Stetson College of Law in 1964.
In 1967, Mr. D'Alessandro was appointed Assistant State Attorney for Lee County. Two years later, he was appointed by Governor Claude Kirk as the State Attorney for the newly created 20th Judicial Circuit. At age 30, Mr. D'Alessandro was the youngest State Attorney to ever hold such a position. After his appointment in 1969, Mr. D'Alessandro was elected to office for eight consecutive terms.
After serving our community in this capacity for 35 years, Mr. D'Alessandro retired from the State Attorney's Office in 2002, and is now a partner of the firm Goldberg, Racila, D'Alessandro and Noone, LLC.
Mr. D'Alessandro is a member of the Florida Bar and the United States Supreme Court Bar. He is Past President of the Florida Prosecuting Attorney's Association and Past Vice President of the National District Attorney's Association. He served on governor Lawton Chiles' Criminal Justice Task Force, as well as serving on former Governor Robert Martinez's Drug Policy Task Force and Criminal Justice Information Systems Council. Mr. D'Alessandro has served on numerous committees of the Florida Bar and has lectured at the Cooper Institute for Advanced Studies in Medicine and the Humanities on the legal issues relating to the right to die.
Mr. D'Alessandro is also involved in many community service organizations. He has received a number of awards for outstanding community service and citizenship; he was selected for "Who's Who in American Law Enforcement", he was awarded the Florida Outstanding American Award by the Florida Jaycees; and he was voted Man of the Year in 1983 by the Italian American Federation of the State of Florida.
Mr. D'Alessandro is actively involved in a number of Personal Injury and Wrongful Death cases being handled by Goldberg, Racila, D'Alessandro & Noone, LLC.